E-FOIL ELECTRIC HYDROFOIL SURFBOARDS
Electric hydrofoil surfboards or e-Foil surfboards are the latest sensation on the water. Ride on seas, lakes or rivers and experience the feeling of flying above the water even whithout wind or waves. You can ride at any time and anywhere. Pure fun, quiet and emission-free.
E-FOIL ELECTRIC HYDROFOIL ACCESORIES AND SPARE PARTS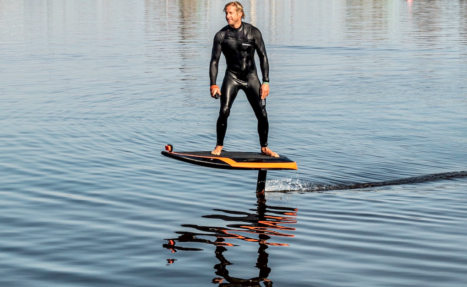 An eFoil is a surfboard with an electric motor that flies due to a hydrofoil wing. The eFoil motor is almost silent and is powered by a rechargeable battery. This battery can be recharged very easily and quickly. You can ride anytime and anywhere, e.g. on oceans, rivers or lakes, to experience the sensation of flying over water. Once you have tried this water toy you will get addicted to it.
The eFoil is a mix of several water sports such as surfing, kite surfing, kite foiling, wakeboarding and windsurfing. The eFoil has an advanced lithium-ion battery that powers a very quiet electric motor. It is controlled via a wireless handheld remote control that synchronises with the eFoil via Bluetooth. This allows you to ride for over an hour at 35 km/h on a two-hour charge, depending on the model you choose. Because the eFoil is a 100% electric water toy, it emits no emissions to the environment and requires very little maintenance.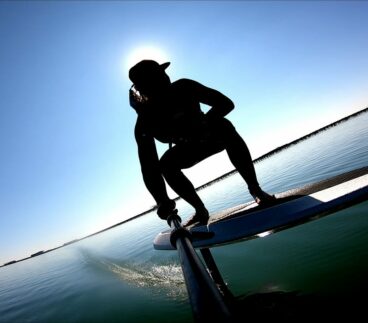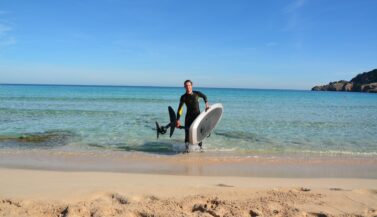 How Much Does an eFoil Cost?
Complete eFoil sets vary in price between 6000€ and 15000€. It is the same situation as for regular surfing. The price of the surfboard is based on the quality, technology, service, brand and many other factors. The most popular brands of efoiling water sports are currently – Lift Foils, Fliteboard, Waydoo and Takuma.
Electric Hydrofoil Surfboard e-Foils Comparison 2022
Electric Hydrofoil Surfboard e-Foil Video – Tests and Comparison 2022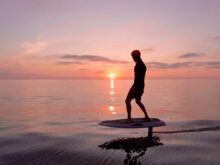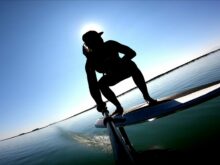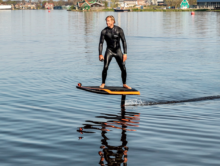 E-Foiling – The Future of Water Sports
EFoiling is often referred to as the "future of water sports". This unique propulsion system can reach speeds of up to 20-28 mph, depending on the type of eFoil you buy. The electric motor can usually run for up to an hour or more, but this depends on the size of the rider and the speed set. The water sport eFoiling is becoming increasingly popular around the world and is a unique substitute for other water sports. Unlike jet skis, eFoils are quiet, emission-free and environmentally friendly.
Electric hydrofoil surfboards are very efficient as the hydrofoil lifts the board out of the water, reducing friction to the water and energy consumption. Unlike surfing, eFoiling is not completely dependent on weather conditions. With eFoiling, you can have fun on the water more often, move at higher speeds and enjoy a unique feeling described as a mixture of floating and flying over the water.
FAQ – ELECTRIC HYDROFOIL SURFBOARD
Can everyone ride eFoil?
The e-Foil electric hydrofoil surfboard is not an extremely difficult sport, and even the youngest beginners will find that eFoils are easy to use. Nevertheless riding an Electric Hydrofoil Surfboard or eFoil surfing is not recommended for everyone. In general, experts recommend that this type of water sport is suitable for people over 16 years old. Most eFoil boards are suitable for riders up to 100 kg. Heavier surfers should bear in mind that they will have a slower speed and a shorter battery life. In general, a personal consultation is advisable. Many criteria need to be considered when choosing a product. The choice of the foil wing, the so-called "wing", the mast length, the charger, etc.. In this way, the riding characteristics, for example, can be adapted very nicely to the personal learning stage.
Is Efoiling dangerous?
During the learning process you will often fall off the board, however most eFoil models are designed to automatically shut down when the controller trigger is released or the controller touches the water. On the other hand, we strongly recommend being careful on beaches where people are swimming or boats are nearby and always keep a certain distance to avoid any problems.
Do e-Foils require maintenance?
Electric Hydrofoil Surfboards are designed to resist corrosion and other damage caused by water. It is a small basic maintenance that can be thoroughly cleaned with fresh water after each use. After that, you should keep your eFoil in a shady, dry place until your next session and always keep it in your bag and, of course, check that there is no damage before your next ride.
Is Efoiling similar to snowboarding or surfing?
Efoiling is a very different sport to surfing, snowboarding, skateboarding and other board sports. However, keeping your balance and turning the board requires similar skills. Experience in other board water sports will help you master eFoiling faster, but no experience is needed to get started.
Where can I ride an e-Foil surfboard?
An e-Foil surfboard can be used on any body of water, from lakes to rivers to the sea. You don't need waves to propel the eFoil, as the electric motor does the propelling for you. With the eFoil you can discover unique marine life, explore new waterways or surf waves in the sea or on lakes. The only limitation is the water depth, which you should definitely pay attention to. It should be as deep as the mast of the eFoil so that you cannot go to the bottom, which would cause a crash and possibly damage the wing of your foil. If this happens, don't worry about the unit because you can re-order this spare part. The simultaneous and unexpected fall into the water may then be more of a problem.