Audi e-tron foil by Aerofoils




The World's safest electric Hydrofoil
Experience one of the most exciting technologies of the 21st century
---
Audi e-tron foil - GENERAL INFORMATION
MODERN TECHNOLOGY
With technology comes a whole new era of possibilities. Imagine being able to explore nature in a sustainable, conscious way - far away from the noise and crowds of populated areas. The gearless drive system is designed for durability and low sound levels, making it the perfect choice for those looking to experience one of the most exciting technologies of the 21st century.
PERFECT GLIDE
Audi AG's SpinOff combines two worlds and is the result of Audi's longstanding experience and design expertise, combined with 20 years of Know-how in aircraft design. This unique combination results in an excellent e-Foil that is not only aesthetically pleasing but also provides the perfect balance between performance and efficiency.
FLY HIGHER. CARVE STEEPER.
It's time to Fly Higher! This is an excellent choice for anyone looking to get the most out of their e-Foiling experience. Its 80cm mast can be fully utilized to fly better and higher over rough seas and make steeper turns. Additionally, the e-tron e-Foil provides enough reserves to surf the big waves. As a result, it is perfect for anyone who wants to push their surfing boundaries and explore new challenges.
MAXIMUM BALANCE
Maximum balance is the key to a successful e-Foil experience. Carbon fiber mast and wings offer maximum rigidity with low weight. You can feel the current under your feet and use defined movements to steer your e-tron precisely when navigating around the turns.
ULTRA COMPACT E-DRIVE - FSP (FULLY SHIELDED PROPELLER)
The FSP (fully shielded propeller) is an ultra-compact drive unit that has been designed and engineered with performance and safety in mind, making it ideal for those who are looking to get the most safe and fast e-Foil. The rotating parts cannot be touched, avoiding injuries to the users. This ultra-compact drive unit guarantees minimum water resistance and provides unmatched levels of power and thrust.
FULL CONTROL FROM LEVEL TO LEVEL
The e-tron controller is the perfect way to take control of your driving experience. With 10 power levels and an extra finely adjustable throttle, you can tailor your driving style to your personal preferences. The controller's smart functions also make it easy to adapt your driving behavior to your abilities. Thanks to its super-sharp color display, you'll always have all the driving data you need right in your hands. This will help you to have a more enjoyable experience.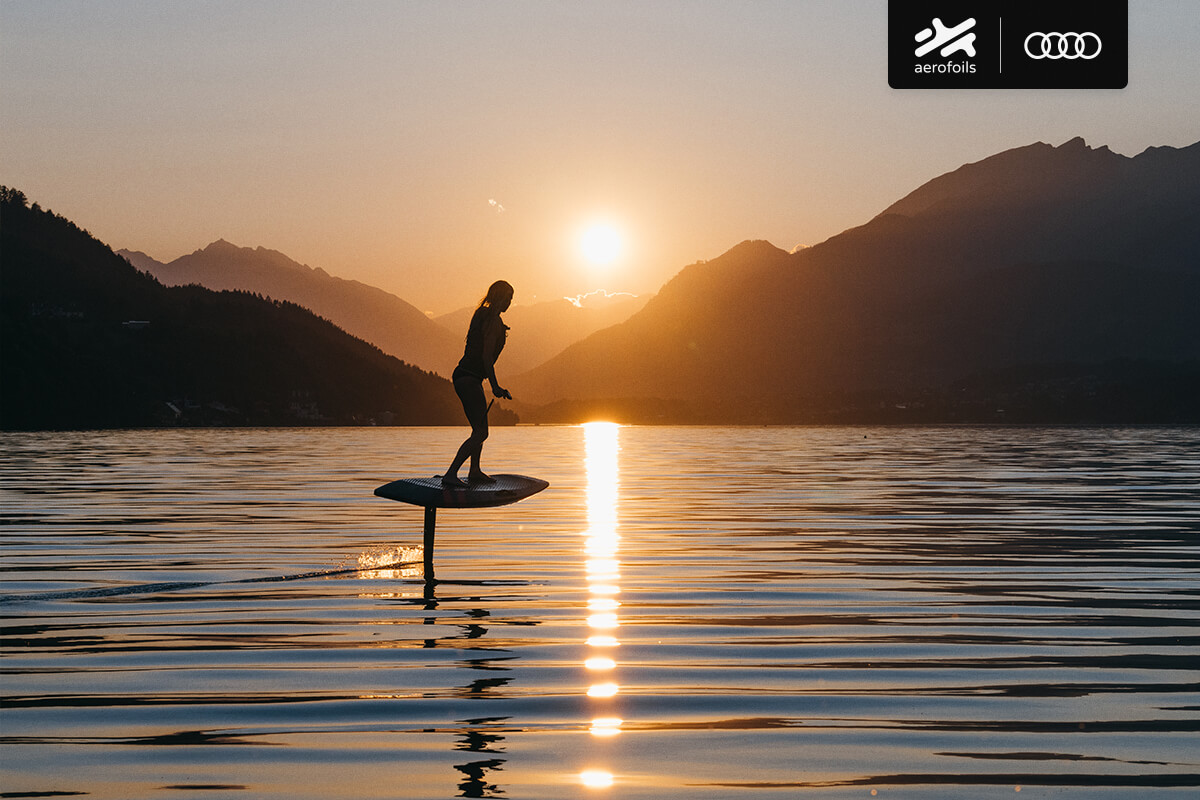 MAXIMUM RANGE BATTERY
Safety and performance were the primary driving factors in the development of the battery. The use of high-performance cells achieves long-range with very little weight. Constant monitoring allows to precisely fine-tune the whole system based on collected data. Problems are detected before they occur. Constant monitoring provides excellent data for fine-tuning the entire system precisely. Provided with two radio modules, ensuring that it remains connected during even the most difficult driving maneuvers. The e-Foil will never lose its connection.
Audi e-tron foil - HIGHLIGHTS
The safest electric Hydrofoil of the World.

No open propeller. No injuries from rotating parts of the drive unit.

Fully integrated drive unit. Ultra slim, aerodynamic aircraft design.
Best glide on the market. Minimal water resistance.
High performance smart battery. Long-range with very low weight.
80cm carbon mast length. Steeper curves and better handling in chop waves. Maximum height.
Maintenance free. Gearless propulsion motor. No cooling lines.
Extremely quiet. Noise-optimized.
High sensitivity throttle.

10 Power levels.

High-tech smart remote control with ultra-sharp color display.
2 Radio modules (front and rear) for stable connection during extreme driving maneuvers.
Smartphone APP (free).
GPS & Gyro for data evaluation and better equipment in future developments.
Made in Germany.
Constructed with carbon fiber. Robust and lightweight.
Audi e-tron foil - TECHNICAL DATA & PERFORMANCE