Awake VINGA 3 – INFORMATION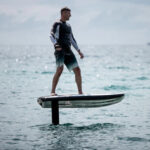 The company Awake says it stands for high performance and quality in everything they do. So that both beginners and professionals can take on any challenge.
Founded with the intention of revolutionizing the electric surfboard market, they created a concept that would keep the equipment of avid surfers to a minimum, while still leaving freedom for choices. For this reason they designed the equipment in such a way that it is possible to switch between e-foil and electric surfboard (Awake RÄVIK) at any time. Thanks to the unique flex system, a complete set of additional equipment can be saved if you want to ride both on and over the waves.
The E-Foil, which moves above the water surface, is especially suitable for smaller waves and longer distances. If you want to have fun with the waves even in rougher seas it is worth taking a look at the electric surfboard Awake RÄVIK.
In addition to the two board variants, there are two versions each, which refer to different experience levels and the associated driving style. Beginners and learners should go for the larger version, the VINGA 3, while advanced and professional surfers looking for a challenge will be happy with the VINGA S.
---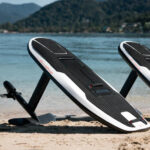 The beginner version of the Awake VINGA is a versatile e-foil that aims for a steep learning curve and accompanies the surfer from the first time to advanced riding.
In doing so, the company succeeded in establishing a new level of user-friendliness, which is due in part to the Click-to-Ride system. Here, a mechanism was created that allows assembly without screws or cables within 30 seconds.
The board has a volume of 95 liters and offers a concave hull, which provides a good balance and still gives a dynamic ride feeling.
Great emphasis was also placed on additional safety features, which is reflected in the shielded jet drive, soft rails and rounded wings.
---
Awake VINGA 3 – DETAILS
Size: 170x70x17cm
Mast height: 70cm
Volume: 95l
Top speed: up to 50 km/h
Weight: 20kg
Propulsion: linear jet system
Awake VINGA 3 – HIGHLIGHTS
– smooth and forgiving entry
– optimized operability with maximum control
– advanced and safety-guaranteed design
– efficient drive and powerful battery for a minimum operating time of 120min
– fast charging times
– high-quality equipment with many individualization options