Waydoo Flyer One Plus E-Foil – INFORMATION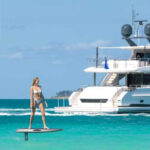 The Waydoo Flyer one PLUS was built to be as comfortable and efficient as possible. When you buy a Waydoo Flyer One plus E-Foil electric surfboard, you will enjoy a unique experience. The Power Flight Cell battery is designed with durable, high-quality sony cells and takes only 2 hours to fully charge, making it one of the most convenient models on the market. With each battery charge, you can fly freely for up to 120 minutes, giving you plenty of time to experience an unforgettable adventure. Feel the freedom of flying above the water with the new Waydoo Flyer One PLUS.
"THE BEST PRICE-PERFORMANCE RATIO ON THE MARKET"
---
SCOPE OF DELIVERY – WHAT'S INCLUDED?
Waydoo Flyer One plus – E-Foil Board with you choice of mast lenght, wing set and propeller
PowerFlight Cell Battery
Fast Charger
BT-Remote Control
Easy Carry Trolley
---
Lighter But Stronger – The Next Level E-Foiling Thrill
With the redesigned boards your ride will be smooth, easily maneuverable and rock solid. Thanks to rigorous analysis and simulations, the boards are wrapped in an aluminum alloy frame, making them 3.5 kg lighter and increasing their stiffness by 60%. By carefully choosing EPP or carbon material, you can customize the board according to your preferences.
Experience the exhilarating speeds of up to 47 km/h. Noise during operation is lower due to the better flow dynamics of our redesigned propeller system, so you can enjoy the ultimate cruising experience.
Longer Battery Life – Enjoy Limitless Freedom
With a fully charged Flyer One Plus Efoil, you can enjoy up to a 120-minute ride, much longer than the Flyer One series. No need to worry about the range time; you can have more fun efoiling, enjoying the company of the waves, and feeling the complete freedom with uncompromised battery life. Please mention that the battery runtime varies according to the user's weight, water condition, and riding methods.
Upgraded Control – Enhanced Connectivity
The Bluetooth connectivity between the controller and the power unit is enhanced. The upgraded chipsets inside the Flyer ONE Plus efoil controller and the mast make the connection more stable, even in choppy waters, giving you real-time information, intuitive control, and full of security.
Travelling With Ease – Reach Your Destination Effortless
All the accessories required for assembly fit perfectly inside the EPP carrying case while leaving space for your stuff, saving your effort on the package. The board can be strapped to the wheeled case, easy to transport, especially in long-range towing. Travel with Waydoo Flyer ONE Plus Efoil is like a breeze.
Customization Options – Choose Your Equipment



Additional Information
Our proprietary safety feature will automatically stop the propeller if you fall off, no need to pull a tether, or release a trigger. Push your limits and feel carefree knowing if you take a spill, your Waydoo Flyer One PLUS won't be cruising off into the sunset.
Low Battery Warning:Venture with confidence. Check your speed, progress, and battery life in a single glance. Record every adventure using the Jet One Controller's built-in GPS software to track your speed and distance.
Propeller Protection Case: Waydoo Flyer One PLUS is built to last. Designed to stand the test of time, the durable propeller from the Flyer One PLUS propeller is protected by its case, shielding it from environmental damage. Soar across the water with a peace of mind and experience breathtaking moments without limitations.
Electric Outboard Motor: If you buy the Waydoo Flyer One PLUS or Waydoo Flyer PLUS, this is the only eFoil on the market that can be connected to an inflatable boat (e.g. dinghy) as an external electric drive. A very good and clever secondary use.
Waydoo Flyer One Plus E-Foil – DETAILS
| | |
| --- | --- |
| Frame Color | Space Grey |
| Board Material | EPP foam reinforced with an aluminium alloy frame |
| Charging Time | 2 Hours Max |
| Max Speed | 47 km/h |
| Ride Time | up to 120 Minutes |
| Measurement (L x W x H) | 65.8 x 28.7 x 6.3 inches / 167 x 73 x 16.2 cm |
| Board Weight | 21.6lbs / 9.8kg |
| Total Weight (inc. Battery) | 28 kgs |
| Volume | 110L |
| REMOTE CONTROL | |
| Connection | Bluetooth |
| Control Method | Trigger Control (24 Speed Levels) |
| Display Mode | OLED Display |
| Battery Cell | 1 x 18650 Rechargeable Battery |
| Charging Method | Magnetic |
| SMART BATTERY | |
| Battery Type | Lithium-ion battery |
| Maximum Power | 6000W |
| Capacity | 32,500 mAh / 1,683 Wh |
| POWER ASSEMBLY | |
| EXPLORER Mast Height | 25 inches/ 64 cm |
| EXPLORER Overall Size (L x W x H) | 23.46 x 5.59 x 31.46 inches /59.6 x 14.2 x 79.9 cm |
| EXPLORER Overall Weight | 34 lbs/ 15.5kg |
| PATROLLER Mast Height | 33 inches / 84cm |
| PATROLLER Overall Size (L x W x H) | 23.46 x 5.59 x 38.94 inches / 59.6 x 14.2 x 98.9 cm |
| PATROLLER Overall Weight | 35.4 lbs/ 16.1kg |
| Mast Material | Aluminum Alloy |
| Main Wing Material | Carbon Fiber |
| Tail Wing Material | Nylon composite |