Available at any place on the balearic islands
Boat Cruise optional available
YOUR E-FOIL SCHOOL FLIGHT OPTIONS
INCLUDED
1 h theory + 1 h surfing
1 E-Foil Surfboard
Sharing with 2 People possible

(30 min each)

Start at a beach nearby

Pictures & Videos
OPTIONAL Boat Cruise (+350€)
INCLUDED
1 h theory + 1 h surfing

(per person)

2 E-Foil Surfboards

Start at a beach nearby

Pictures & Videos
OPTIONAL Boat Cruise (+350€)
INCLUDED
3.5 h Group Boat Cruise
1 h Surfing time

(per person)

2-3 E-Foil Surfboards

Start at a port nearby

Pictures & Videos
OPTIONAL Food & Drinks
Our e-Foil Academy Locations
Here you will find selected locations where our e-foil academy courses take place in Mallorca. Should it be better to start at another location due to wind and wave conditions, we are extremely flexible. We are also happy to come to a beach or harbor near you!
For all bookings: Advance reservation required!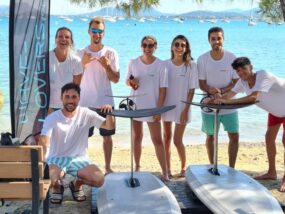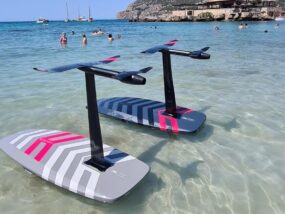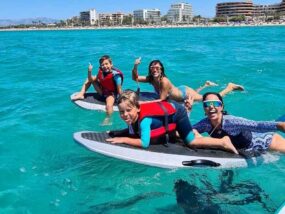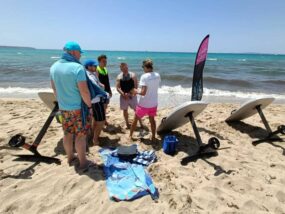 Experience the ultimate feeling of flying over the sea. With our E-Foil test flight events we want to give more interested people the opportunity to experience the latest electric surfing pleasure. The trend is now accessible to everyone!
Book your test flight now!
Request your slot for a Testflight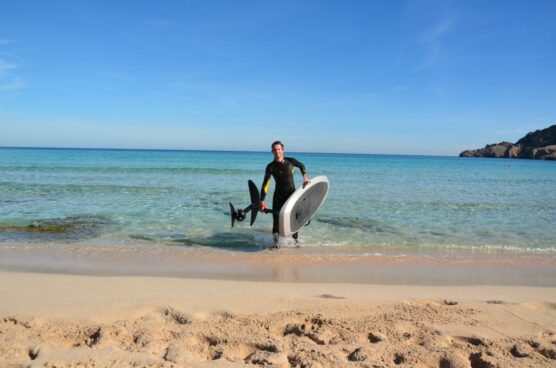 E-FOIL ACADEMY
in Mallorca, Ibiza, Formentera and Menorca.
LEARN TO FLY OVER THE WAVES!
E-Foil Academy in Mallorca, Ibiza, Formentera and Menorca. Learn how to fly over the sea with an electrical hydrofoil surfboard in one of the Balearic Islands and enjoy a great time on the water. No matter if you're doing it alone or with your friends. It's the perfect watersport adventure, and a lot of fun! Discover our E-Foil Academy Options.
Learn e-foil from the beach or from a boat – which is better?
Basically, it can be said that both variants work without problems. When starting from land, it can sometimes be that the surf makes it difficult to get into the sea. Waves, wind, floats, buoys – there is a lot to consider! Before starting on the beach, check the weather. Especially too high waves make learning electric hydrofoil surfing unnecessarily difficult. Regarding the other dangers waiting for you at the beach you can relax. Our e-foil surf instructors will inform you in detail before you start. Our selected surf spots are also tested and in any case "suitable for beginners".
Should weather and wave conditions change spontaneously, it is unfortunately not possible to change locations during E-Foil surf courses from the coast. This problem does not exist when starting from a boat. In any case, a calm bay in the immediate vicinity will be approached. And should the e-foil surf conditions worsen, the location is simply changed.
On the Balearic Islands spontaneous weather changes are increasingly, even in high summer, no longer a rarity. So think carefully: the calmer the sea, the easier it is to learn electric surfing over the sea. And if it gets too crowded on the water, your surf instructor will simply find you a new, calmer spot. For these reasons, we offer all courses optionally from the boat.
Discover the possible E-Foil Academy Locations in the Balearic Islands
Wherever you are – We teach you how to FLY!
While the Balearic Islands is the place to be, e-foil surfing is THE THING to do! If you like water sports and you feel little tired renting a boat or a Jetski then this is exactly the right challenge for you. You'll learn how to balance yourself and experience that every movement of your body has an immediate impact to your surfing direction. Once you control it, you feel the indescribable sensation of flying over the waves. Book your efoil surfboard academy spot in Mallorca, Ibiza, Formentera or Menorca and be ready for a true water sport challenge.