Audi E-Tron Competition E-Foil - INFORMATION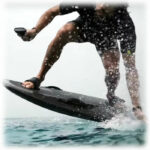 The Audi e-tron foil Competition is a high-tech efoil board designed for the most demanding riders. It strikes the perfect balance between agility and functionality, making it ideal for competitive racing and freestyle riding.
The board is constructed from lightweight yet durable carbon fiber, reinforced with strategic Innegra reinforcements for added strength. Its new V-shaped hull ensures quick, responsive handling and stability, even in the most extreme conditions.
The COMPETITION also features a specialized leash plug for unwavering control, customizable foot straps for tailored support, and a microdot pad for superior grip and stability.
Engineered with precision, the COMPETITION features an optimized mast plate angle that guarantees neutral and balanced board placement. Whether you're racing down a straightaway or carving through curves, this board ensures you maintain full control, allowing you to surpass your competition.
---
SCOPE OF DELIVERY – WHAT'S INCLUDED?
Board & Drive Unit
New Wing Set (1000x300)
Battery & Fast Charger
Remote Controller
3 Seperate Cases (Board, Drive Unit & Wings)
---
Revised Drive Unit That Makes You Shine
The latest Audi E-Tron Foil Competition features a drive unit with innovative technology that redefines performance and efficiency. The E-Foil now offers 20% faster acceleration, 10% more energy efficiency and 15% more maximum driver weight. But that's far from all. The new flagship offer a whole range of benefits. You have to feel it to understand that the riding experience is unmatched to this point and any professional will immediately fall in love. A dream come true!
Outstanding Controller Technology
The Audi e-tron foil remote control is the perfect companion for your e-foil board, giving you ultimate control and visibility in all conditions. With its high-resolution color display, you can easily read all important ride data such as battery consumption, GPS speed, efficiency and flight time. Plus, the Remote is floatable and has an adjustable attachment loop, so you can be sure it will stay with you even if you take a tumble.
Capacity Coupled With Efficiency
The incredibly powerful battery with almost 2.3 kWh ensures extremely long runtimes and a range of up to 40km. That means a whole lot of fun without having to charge in between. The battery lasts up to 2 hours and is also recharged just as quickly with the included power supply unit. In addition, the charger is adjustable and can be throttled back if the power grid is more busy.
---
Audi E-Tron Competition E-Foil - NEWEST FEATURES
Wings
Carbon Front Wing 1000 & Stabilizer 300 - Enhance your surfboard experience with the latest developments on the market and open up a world of possibilities. Aerofoils are known for their perfectly designed carbon wings, which originate from the modeling industry and meet all situations. Improved agility, superior glide, enhanced water penetration and a stable pressure point give you the control and confidence to push your riding to new heights.
Drive Unit
Faster, greener, and more versatile driving. With 20% faster acceleration, 10% more energy efficiency, and 15% increased maximum driver weight, Aerofoils Drive Unit elevates your journey and pushes boundaries like never before.
Design
To emphasize the sporty character of the new board, a completely new look was designed. The exciting camo look shines even in bad weather and is sure to find many friends. In addition, the board is now even smaller and more maneuverable. With an incredible 73L volume, it belongs to the absolute top class. But beware only experienced surfers know how to rein in the beast.
Audi E-Tron Competition E-Foil - DETAILS
Model
Audi E-Tron Foil
(Adventure / Performance)
Audi E-Tron
Competition

Speed
up to 50 km/h
up to 50 km/h
Runtime / Range
up to 2 hrs / 36km
up to 2 hrs / 40km

Charging Time
approx. 2 hrs
approx. 2 hrs
Weight
33 kg
31 kg
Volume
103 L / 83 L
73 L
Load Capacity
up to 85kg
up to 100kg

Dimensions
176 x 72 x 15 / 153 x 67 x 15
135 x 63 x 15
Riding Experience
Carving: 6-7 / 10
Stability: 6-7 / 10
Skill Level: 4 / 10
Carving: 8 / 10
Stability: 5 / 10
Skill Level: 6 / 10