E-DIVE UNDERWATER SCOOTER
E-Dive underwater scooter aka Seabob, water scooter, sea scooter or underwater Diver Propulsion Vehicle (DPV) are a great way to explore lakes and oceans on the surface and under the water. Discover hidden caves and the pure underwater world.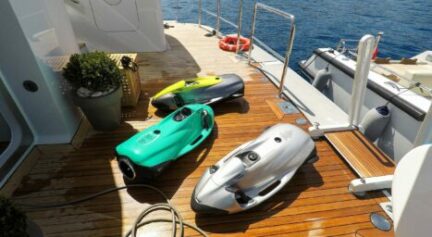 What is a water scooter or sea scooter?
A water scooter is an amazing waterproof, battery-powered device to create unique experiences underwater. The DPVs, Underwater diver propulsion vehicles, in general have one or two propeller. These water toys are used for snorkelling or scuba diving lovers. The best-known underwater scooters in the market are sold by the SEABOB, iAQUA or Yamaha brand
How does a sea scooter work?
Sea scooters are handheld, battery-powered yacht toys that thrust the user along with a propellor. You control them with a throttle button and simply steer them with your arms. In seconds, they can rush into the deep and explore the impressive underwater world. These devices do not emit any emissions. These seabobs can also be used very well on the surface of the water.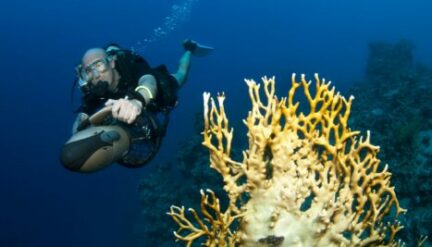 How much is an underwater scooter?
There are two main companies that offer the fastest underwater scooter: Seabob and iAQUA. On the other hand, there are smaller and less powerful Sea Scooters like Geneinno Trident Sea Scooter, Sublue WhiteShark Mix Underwater Scooter, RoboSea SeaFlyer, Yamaha Seawing II, TUSA SAV-7 EVO-2 and many more. The prices for the smaller water scooters start from 400€ to 4000€.
E-Dive Underwater Scooters Comparison 2022
E-Dive Underwater Scooter – Video Review 2022
FAQ E-DIVE UNDERWATER SCOOTER / SEABOB / WATER SCOOTER
What are water scooters used for?
Water scooters are used in a number of different water based activities including diving, swimming and snorkelling. They can be used in a number of different water environments including swimming pools, lakes and the ocean, the latest is the best choice to discover new places like caves or small beaches around the coast and of course seeing the amazing sea life under water and feel the freedom and the sensation of diving like a dolphin.
What safety features do sea scooters have?
Because sea scooters are battery-powered, they can actually go fast under water. The fastest are iAQUA and then Seabob. However, there are other small ones cheaper but with less power. This is a very safe water toy for both the diver and other water users and allows more control over the device. Sea scooters only move forward when the throttle is pressed, which means that as soon as you release the throttle, the sea scooter automatically stops and floats. This means that if you fall off or accidentally let go, the sea scooter will not move forward without you and you can easily catch it again.
How long do the batteries on sea scooters last for?
There are different designs for sea scooters and their battery package and concepts. Generally the batteries last for 60, 90 or 150 minutes of continuous use. Powerful Sea Scooters are heavy, but you can carry them back to the boat yourself if the battery runs out during a dive. You can easily charge the Sea Scooter's batteries between dives while you are taking a break. So they will last as long as you need them if you are on the water all day. With a quick charger, they are usually recharged in 2 hours.
How are sea scooters powered?
Most sea scooters are battery-powered and these are rechargeable. The sea scooter provides forward propulsion through a simple propeller system at the rear. This allows you to move more efficiently underwater when you are diving or on the surface.
Maintenance of Underwater scooters
Water scooters are technologically advanced devices and you should never attempt to repair or modify one unless you are able to do so. Make sure your new scooter comes with a warranty and that if something goes wrong, you are close to a reputable service facility. To avoid damage to your scooter, we strongly recommend that you read the instruction manual carefully before using the watercraft. Maintain it properly by rinsing it with fresh water after each dive. As battery technology Lithium-ion batteries are recommended due to there is no special maintenance or specific care needed. They ensure the best Lifetime and the most number of charging cycles. Disadvantage: They are much more expensive but still it will be the best option to choose.