SEABOB F5 SR Underwater Scooter – INFORMATION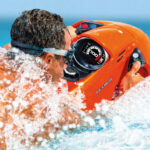 The SEABOB F5 SR is an absolute beast in terms of performance. The top product from the range convinces with incredible power and improved runtime. In addition, the model offers three exclusive colors that add the finishing touch to the outstanding look. An absolute must-have!
In terms of agility and control, the SEABOB F5 SR is looking for its equal. The speed has also been raised to a level that is noticeably at the maximum to remain cofortable. With 7 gears, everyone can test their own comfort zone and find the speed option that suits him most.
With a total weight of only 35 kg, the SEABOB scooter also relatively light. This further emphasizes the sporty character. Through its easy handling and beginnerfriendly operation, the F5 SR is a great choice for anyone who wants to experience next level engineering!
Newest Technology Involved
The high-performance electric drive unit is an environment-friendly innovation, which leaves nothing to be desired. Its high quality materials reflect the outstanding handmade processing.
Using the latest technology, the underwater scooter achieves unbelievable power with exceptional efficiency and a compact overall size. Quality down to the last detail.
Detailed Status Updates
The central cockpit is exactly in the driver's field of vision. All important information is shown on the bright tft color display. With the display of the battery charge level you keep the overview.
In addition, the driver receives up-to-date information about his diving depth and water temperature. The programming functions can also be conveniently controlled via the display.
Intelligent Control
The underwater scooter embodies state-of-the-art technology through and through. The pilot controls the vehicle via two intelligent control grips with piezo technology.
A light press on the green sensor accelerates in powerful strokes without any gaps until the desired speed is reached. In contrast, pressure on the red sensor slows down the SEABOB by reducing thrust. If the situation requires an immediate stop, simply releasing the trigger is sufficient.
Optional Camera System
If desired, the SEABOB can be equipped with a built-in camera system consisting of two lenses. A full HD camera as a recording system in the bow of the watercraft, which films the surroundings and saves everything at the push of a button. Another full HD camera is located in the information display to act as an action selfie cam to show the pilot on his adventures.
SEABOB F5 SR Underwater Scooter – DETAILS
| | | | |
| --- | --- | --- | --- |
| | SEABOB F5 | SEABOB F5 S | SEABOB F5 SR |
| Drive | | | |
| Performance up to | 2.5 kW | 4.0 kW | 4.5 kW |
| Maximum thrust up to | 480 N | 680 N | 745 N |
| Power levels | 4 | 6 | 7 |
| Speed | | | |
| Over water up to | 14 km/h | 20 km/h | 22 km/h |
| Under water up to | 13 km/h | 18 km/h | 20 km/h |
Battery
| | | | |
| --- | --- | --- | --- |
| Operating time | ∅ 50 min | ∅ 60 min | ∅ 70 min |
| Charging time | | | |
| Standard charging | ∅ 8 h | ∅ 7 h | ∅ 7 h |
| Quick charging | ∅ 1,5 h | ∅ 1,5 h | ∅ 1,5 h |
Dimensions & Weight
| | | | |
| --- | --- | --- | --- |
| Dimensions L x W x H (in mm) | 1.152 x 507 x 372 | 1.152 x 507 x 372 | 1.152 x 543 x 372 |
| Weight | approx. 29 kg | approx. 34 kg | approx. 35 kg |
| Buoyancy in water | 14 kg | 10 kg | 10 kg |
Depth Rating
| | | | |
| --- | --- | --- | --- |
| 2.5 m (Safety cut-off) | ✓ | ✓ | ✓ |
| max. 40 m can be set via electronic control | ✓ | ✓ | ✓ |