ALTIVS APX Underwater Scooter – INFORMATION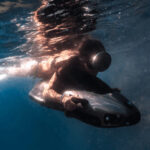 The founders of ALTIVS want to achieve two things above all: reach higher and dive deeper. That's how the name came about, translated from Latin. The rising team has a lot of experience with water sports equipment and is supported by the reliable manufacturer Sublue. That's how they managed to raise production standards and deliver the highest-quality products around!
The ALTIVS APX found its origins in trying to find a small and lightweight underwater scooter that delivers enough power and battery capacity to compare with high-end models. While searching, they found out that the closest option weighs 27kg in total, which is way too heavy for easy transport. By utilizing the latest production technology, they managed to reduce the weight to around 18kg. That's almost 35% less, and clearly the overall winner, hence performance and weight.
Unmatched Performance
While cutting down on weight, good performance is the biggest issue to maintain. With incredible engineering skills, the inventors created a water scooter that sought its equal. With a maximum speed of 16 km/h, it can chase even the most powerful scooters around. The long battery life of up to 1 hour ensures extensive range and the deepest dives.
The ultra-efficient propulsion system needed to achieve this performance was created by choosing a stealth ducted impeller that doesn't waste energy on recirculation or noise. In combination with the high-quality materials used, the ALTIVS APX will last you for several years.
Smart Controls
On top of the unique weight, the inventors also implemented a smart Android-based navigation system with built-in GPS. This enables tracking on your mobile phone and lets you save specific routes for later use.
Equipped with a 5.5 inch LCD display, you will never miss any status updates. The Android-like system shows all relevant information like speed, charge, or even a compass for easy navigation. It is easy to use and matches the outstanding design, which you will fall in love with.
Plug & Play Design
Even though the scooter was built to last, the design was adapted to make any repairman's heart beat faster. All components are easily replaceable, making this an outstanding model to service.
This does not necessarily mean that the design loses its luxurious appearance. In fact, the small but elegant design keeps up with any other solution around. Last but not least, the affordable price makes the ALTIVS APX a perfect companion, you will never regret buying.
ALTIVS APX Underwater Scooter – DETAILS
| | |
| --- | --- |
| MAX FORCE | 370N |
| TOP SPEED | 16km/h |
| CHARGING | 3h to full charge (1.5h with fast charger) |
| RUNTIME | 1 H |
| WEIGHT | 18kg |
| DIVING DEPTH | 40m |
| POWER MODES | 4 |
| DIVING SUBLIGHT | 2,000 lumen LED |
ALTIVS APX Underwater Scooter – HIGHLIGHTS
– lowest weight out of any competitive underwater scooter
– long-lasting battery runtime of up to 1 hour in total
– built-in smart gps system and huge 5.5 inch display powered by Android firmware
– optional with fast charger and mounting rack (boat bundle) / travel bag (travel bundle)
– great performance & affordable price