SEABOB F5 Underwater Scooter – INFORMATION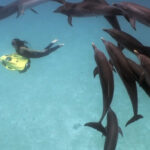 The SEABOB F5 is the most affordable model in the range. Nevertheless, enough driving power has been integrated to have lots of fun. The wide range of colors and the robust material convince even the harshest critics.
In terms of maneuverability, the SEABOB F5 is way out in front. Since the speed is lower than its sister models, you can glide along quite comfortably and in control. The existing 4 gears offer enough variety and help for a balanced experience.
Latest Technology
The high-performance electric drive unit is an environment-friendly innovation, which leaves nothing to be desired. Its high quality materials reflect the outstanding handmade processing.
Using the latest technology, the underwater scooter achieves unbelievable power with exceptional efficiency and a compact overall size. Quality down to the last detail.
Handy Display
The central cockpit is exactly in the driver's field of vision. All important information is shown on the bright tft color display. With the display of the battery charge level you keep the overview.
In addition, the driver receives up-to-date information about his diving depth and water temperature. The programming functions can also be conveniently controlled via the display.
Optional Camera System
If desired, the SEABOB can be equipped with a built-in camera system consisting of two lenses. A full HD camera as a recording system in the bow of the watercraft, which films the surroundings and saves everything at the push of a button. Another full HD camera is located in the information display to act as an action selfie cam to show the pilot on his adventures.
SEABOB F5 Underwater Scooter – DETAILS
| | | | |
| --- | --- | --- | --- |
| | SEABOB F5 | SEABOB F5 S | SEABOB F5 SR |
| Drive | | | |
| Performance up to | 2.5 kW | 4.0 kW | 4.5 kW |
| Maximum thrust up to | 480 N | 680 N | 745 N |
| Power levels | 4 | 6 | 7 |
| Speed | | | |
| Over water up to | 14 km/h | 20 km/h | 22 km/h |
| Under water up to | 13 km/h | 18 km/h | 20 km/h |
Battery
| | | | |
| --- | --- | --- | --- |
| Operating time | ∅ 50 min | ∅ 60 min | ∅ 70 min |
| Charging time | | | |
| Standard charging | ∅ 8 h | ∅ 7 h | ∅ 7 h |
| Quick charging | ∅ 1,5 h | ∅ 1,5 h | ∅ 1,5 h |
Dimensions & Weight
| | | | |
| --- | --- | --- | --- |
| Dimensions L x W x H (in mm) | 1.152 x 507 x 372 | 1.152 x 507 x 372 | 1.152 x 543 x 372 |
| Weight | approx. 29 kg | approx. 34 kg | approx. 35 kg |
| Buoyancy in water | 14 kg | 10 kg | 10 kg |
Depth Rating
| | | | |
| --- | --- | --- | --- |
| 2.5 m (Safety cut-off) | ✓ | ✓ | ✓ |
| max. 40 m can be set via electronic control | ✓ | ✓ | ✓ |