Sublue WaveShark Navbow+ | The Ultimate Experience in Diving
Sublue introduces WaveShark Navbow Plus, the most advanced underwater scooter designed to give you the ultimate diving experience. The cutting-edge technology of Navbow+ provides a smart and safe diving experience, unmatched in its class, making it the perfect choice for divers who seek power, speed, and safety in their underwater adventures.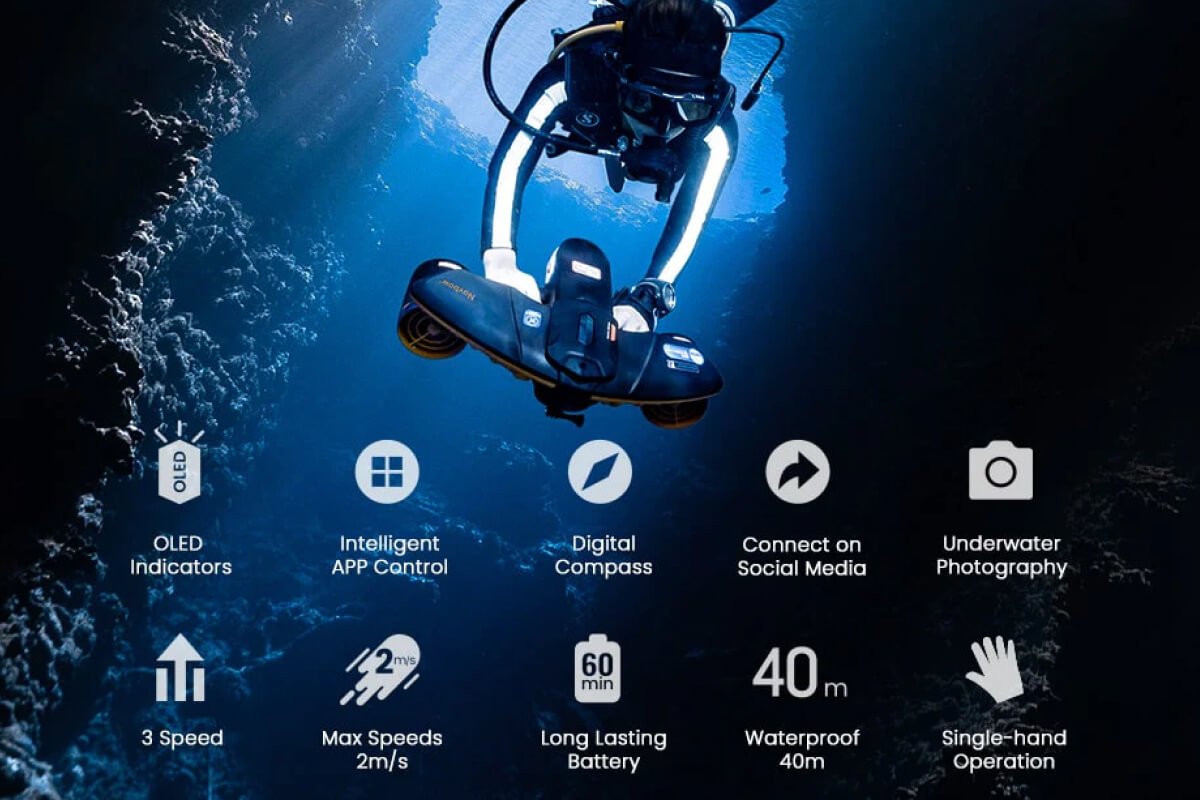 Navbow+ Unquestionably Powerful
Navbow+ comes equipped with 3-speed switches, intelligent APP control, and a digital compass, designed to take your underwater exploration to a new level. With the fastest speed among all Sublue underwater scooters, you can effortlessly move at up to 2m/s, while the advanced and patented waterproof batteries can last up to 75 minutes, allowing you to dive up to 40m depth with confidence.
Navbow+ Smart Safety Features
Smart safety features are a priority for Sublue, and Navbow+ is no exception. It offers superior safety features, including a flashing OLED screen, buzzer, and auto-shutdown, so you can dive with peace of mind, knowing that your underwater scooter has got you covered. You can even use the APP to set depth and battery alarms, further enhancing the level of safety.
Navbow+ Cutting Edge Technology
Explore the underwater world with confidence using Navbow+'s cutting-edge technology. The built-in digital compass, water depth, and temperature sensors help you navigate your journey underwater with ease.
Navbow+
Durable And Reliable
Navbow+ uses the latest anti-corrosion technology, ensuring it is extra durable with hassle-free maintenance. Its design is aimed to give you value for your money, ensuring that you can enjoy your diving experience with Navbow+ for years to come.

Stunning Underwater Photography
Take stunning underwater photos and videos with ease using the Navbow+. The optional Sublue photography platform allows you to attach action cameras, waterproof LED lights, float arms, and other accessories.
* Sublue photography platform sold separately.
On your marks, Get set, Dive!
Sublue WhiteShark Navbow+ is the perfect choice for any diver seeking power, speed, and safety in their underwater adventures. With an array of features and accessories, including the Navbow Accessory Kit, Waterproof LED Light, Selfie Extension Stick, and the Tini Rapid 2-hour Charger, you are guaranteed to have worry-less fun with Navbow+.
Watch this video to learn the basic instructions and some advanced settings of the Navbow+ Water Scooter.

SublueGo App
With the "SublueGo App", you can easily generate underwater experience logs, including water depth and temperature, throughout your entire dive. Then, share your dive logs with your family and friends on social media to let them know what you have been up to.
Download the "SublueGo App"
"SublueGo App" is a mobile phone app that helps use this product. It provides functions of personalized parameter settings, generation of underwater exercise data, product condition monitoring, firmware update, community sharing and interaction and so on, the details of which can be seen in the "SublueGo" chapter of the User Manual.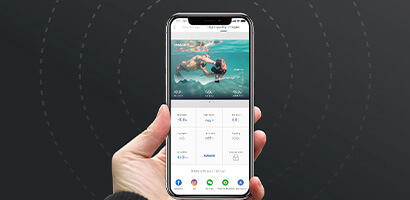 The "SublueGo App" requires iOS 12.0 or above system or Android 7.0 or above system.
This App is subject to change without notice, please follow and update "SublueGo App" timely.
WhiteShark Navbow Plus Technical Specifications
Dimensions
L 486 xW 327 xH 177 mm
Color
Phantom gray / Flame orange
Weight
3400g
Battery weight
1100g
Depth
40m (131ft)
Speed
Free: 1 m/s (2.24 mph), Sport: 1.5 m/s (3.36mph), Turbo: 2 m/s (4.47 mph)
Battery Life
Up to 75 minutes
Temperature accuracy
± 2
Depth accuracy
±0.5 m
Map
Global map position and search
Compass
Digital compass
Maximum storage item
60 items
Maximum storage duration
1 hour/item
Interface
2 universal mounting points (which can be mounted balance weights, sports cameras, photography platform)
Accessories (Included)
Balance weight bracket & Balance weights x 3;
D-ring buckle;
Single hand operation lanyard;
Anti-lost lanyard;
Sublue faster charger

Optional accessories
Navbow Explore kit (included photography platform, waterproof LED lights, waterproof smartphone case and other connecting components);
Photography platform Diving cross strap;
Waterproof backpack;
Waterproof LED light;
Selfie extension stick
WhiteShark Navbow+ FAQ
How fast can Navbow+ reach?
Navbow+ has three speed gears: Free for low speed up to 1.0m/s, Sport for medium speed up to 1.5m/s, and Turbo for high speed up to 2.0m/s. Your navigation speed may be affected by factors such as water temperature, depth, flow, and your equipment setup.
How long is the Navbow+ battery life?
The battery life varies based on usage, environment, and user factors like height and weight. The 158wh battery can last up to 75 minutes under normal conditions.
How many speed gears does Navbow+ have?
Sublue's Navbow+ Underwater Scooter features three speed gears – "free", "Sport", and "turbo". The "free" gear is the default setting, but when the power drops below 50%, it's recommended to switch between "free" and "Sport" modes in order to conserve energy.
How does Navbow+ speed switch?
You can change the speed in two ways. First, push the multi-function button switch forward for half a second and release it. Second, press both hands on the start button to keep the equipment running. After releasing the right-hand start button, quickly press it twice with an interval of about 0.45 seconds and then hold it. This only works in both hands mode.
Does Navbow+ have a low battery reminder?
Yes, when the battery power is less than two grids, the battery power icon on the display screen will flash continuously and quickly, and vibrate and remind 3 times.
When the battery power is less than one grid, the battery power icon on the display will flash continuously and quickly, and vibrate for 6 times.
What is security lock mode?
When the safety lock mode is activated, the equipment will not operate. The safety lock icon will be displayed on the screen during this mode. To resume equipment operation, you must first unlock it through the Blue-Go app.
Why does it feel that the thrust is very small sometimes?
To ensure optimal performance, please inspect the propeller for any foreign objects before use. It is important to note that the thrust may vary between the high and low speed gears. We recommend selecting the appropriate gear based on your usage mode, environment, height, and weight to maximize the efficiency and experience of the Navbow+.
How do you know how much power Navbow+ has left?
When you turn on the multi-function dial switch, you'll be able to see the current remaining battery power on the OLED screen in real time.
How long can the battery be fully charged?
The 98wh battery can be fully charged in approximately 2.5 hours, while the 158wh battery requires approximately 3.5 hours for a full charge.
What is the function of the app?
The "Sublue-Go App" provides users with a range of advanced features including the ability to synchronize equipment information, enable self-cleaning, implement a safety lock, and switch to manual operation mode.
How to download the "SublueGo App"?
To download the "SublueGo App", scan the QR code above, you can also find it in the user manual. Note that the app requires iOS 12.0 or Android 7.0 or above.
How to install counterweight column to adjust buoyancy?
To achieve optimal buoyancy with your WhiteShark Navbow+ underwater scooter, we recommend the following steps:
1. First, install a single counterweight column into the middle jack.
2. Completely submerge the equipment in the water and allow it to fully exhaust.
3. Check the buoyancy state to ensure it meets your desired expectations.
4. If the buoyancy does not meet your expectations, increase the counterweight column up to achieve your desired result.
By following these steps, you can ensure that your WhiteShark Navbow+ provides the ideal buoyancy for your underwater adventures.
Can I carry an extension?
The WhiteShark Navbow+ Underwater Scooter features a conveniently designed standard GoPro camera bracket located below the front end of the product, as well as a 1/4″ underwater equipment installation hole located above it. This allows for easy expansion of equipment, providing divers with enhanced versatility and convenience during their underwater explorations.
Can the WhiteShark Navbow+ take a camera?
Although the WhiteShark Navbow+ may not come equipped with a built-in camera, rest assured that we have thoughtfully provided a carrying interface for you. This allows you to easily attach and utilize GoPro and other sports cameras to capture stunning underwater moments.