iAQUA AquaDart Pro 720 Max- The Ultimate Underwater Power Scooter
Are you up for an adventure?
Diving has never been so much fun! With the iAQUA AquaDart Pro 720 MAX you'll get a powerful underwater scooter for different underwater activities. Preferred by most users worldwide, the AquaDart Pro 720 MAX 2022/23 model adds new features to its predecessor, which was named the world's best luxury water toy in 2021. Equipped with the powerful 1700 lumens twin LED lights, it adds a new dimension to underwater dives by offering the possibility to explore the underwater world in real colors. Get ready to dive into the depths of the sea and discover the fascinating underwater world.
iAQUA AquaDart Pro 720 Max | Available Colors:

iAQUA AquaDart Pro 720 Max | Features:
Power Levels: 6 Gears
Max Speed: Up to 21km/h
Operating Time (min - max): 80-130 Min
Maximum diving depth: 45m
Weight: 42kg
Power: 4.5 kW
Thrust: 720N
Charging time: 2h with fast charger, 7h with standard charger
Left/Right Hand Operation: ✓
High Powered Underwater Lights: ✓
Dimensions: 115 x 60 x 40 cm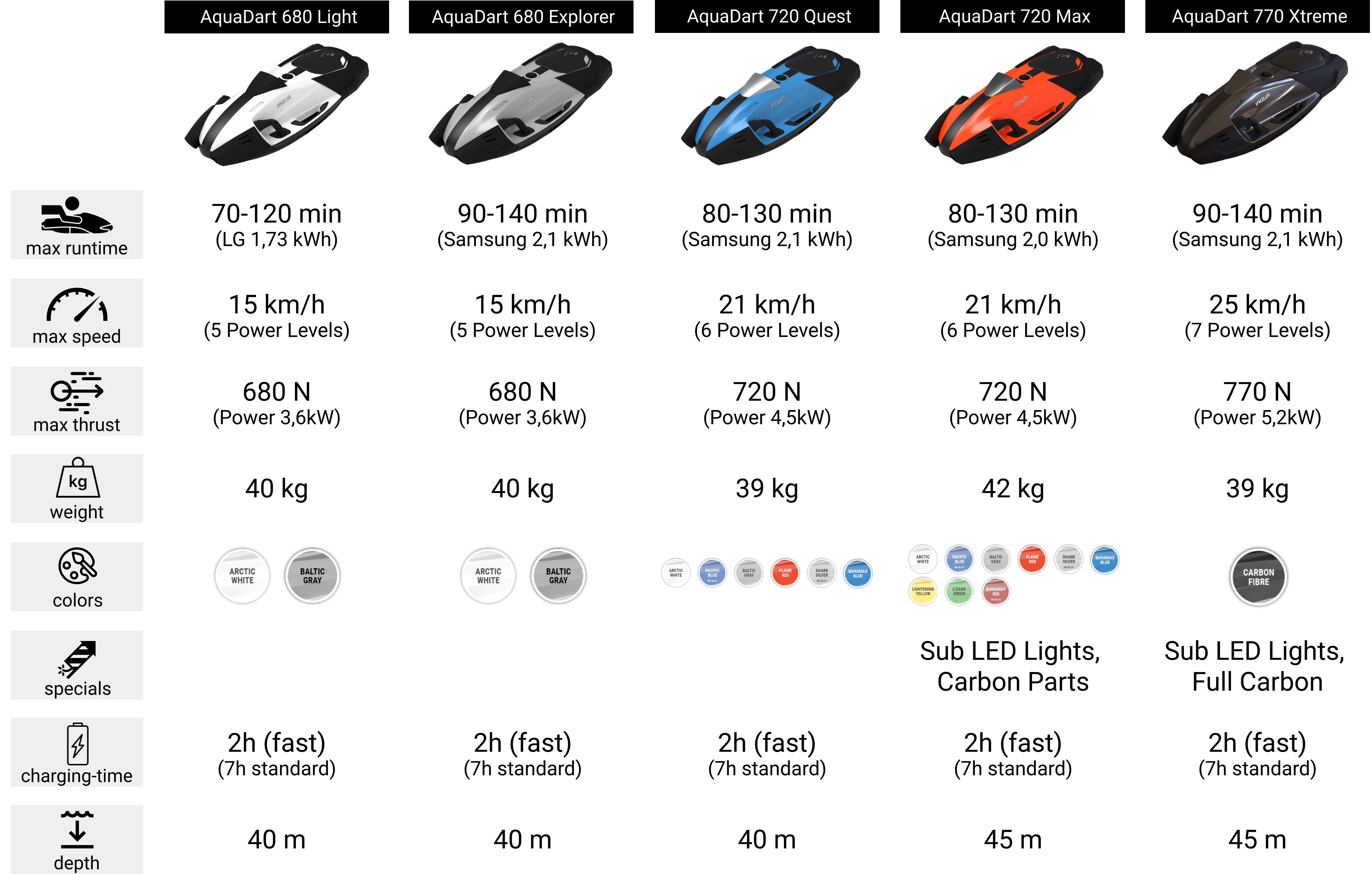 Five reasons for you to buy the iAQUA AquaDart Pro 720 Max:
1) Six different levels of power for various activities
The AquaDart Pro 720 Max has a tremendous thrust force of 720 Newton. The 4,500 watts of peak power are equivalent to 18 e-bike motors. The ultra- strong motorisation is a great advantage underwater due to the higher pressure and water resistance. This gives you the opportunity to try out a wide variety of activities- racing underwater, make loops underwater or explore large underwater territories.
2) Eco- friendly
With the iAQUA AquaDart Pro 720 Max you have the opportunity to explore new fascinating worlds without harming the environment, as long as you charge the device with renewable energy. In addition, iAQUA uses packaging that can be recycled and takes part in beach cleanup campaigns.

3) Unique production of colors 
The iAQUA AquaDart models are made with a special metallic sheen. This allows you to recognise your Underwater Power Scooter above water even from a distance.
4) Extra long durability- iAQUA AQUADART 720 MAX with carbon elements
The LCD- display as well as the drive are made of  T-3000 carbon. By making these two sensitive areas even more protected, the Power Scooter is very resilient. This feature makes the Underwater Power Scooter the best choice for you. A frequent use and long durability is what you can expect from the iAQUA AquaDart Pro 720 Max.
5) Batteries from Samsung
A lot of power needs a strong battery. The motor is fed by a lithium-ion battery from Samsung with 2,000 watt hours. The iAQUA AquaDart Pro 720 Max offers a runtime of 90 minutes at mixed speeds. However, the individual range may vary depending on the water temperature, your weight, the water resistance and your riding style.