SCUBAJET PRO Dive Kit – INFORMATION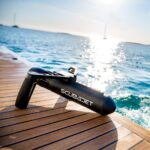 You love to dive and can't get enough? Then you probably experienced that time underwater is surely valuable. With this complete setup from Scubajet you will move easier than ever before. Exploring the depths could not get much better.
With the included 1000W engine and two 100Wh airline-compliant SMART BATTERIES™ you can dive for up to 2 hours in total and reach speeds of op to 11 km/h (7 m/h). The rated depth of up to 60m (200ft) ensures you diving to the deepest spots.
Dual Hand Controller
With all the gear you you have to manage underwater this handy controller gives you the option to choose between both hands. You also get useful information about depth, temperature, battery life and more. With only 500g in weight this module will be hard to notice compared to your other equipment. Perfect for an enjoyable diving experience.
LED Light
All our SCUBAJET kits are equipped with the BEAM™ LED nose to brighten up your underwater experience and help your vision whilst exploring the dreamlike underwater world in its true beauty. The LED shines an angle of 120° and delivers up to 1500 lumens.
SCUBAJET PRO Dive Kit – HIGHLIGHTS
– 1000W motor unit with top speed of up to 11 km/h (7 m/h)
– rated depth of 60m (200 ft)
– 2x 100 Wh batteries with total runtime of up to 2 hours
– dual hand controller for easy navigation underwater
– strong BEAM™ LED light (1500 lumens)
– loads of extra equipment (detailed information in pictures)