Awake RÄVIK 3 – INFORMATION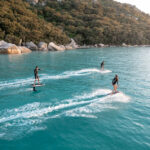 The company Awake says it stands for high performance and quality in everything they do. So that both beginners and professionals can take on any challenge.
Founded with the intention of revolutionizing the electric surfboard market, they created a concept that would keep the equipment of avid surfers to a minimum, while still leaving freedom for choices. For this reason they designed the equipment in such a way that it is possible to switch between electric surfboard and e-foil (Awake VINGA) at any time. Thanks to the unique flex system, a complete set of additional equipment can be saved if you want to ride both on and over the waves.
The electric surfboard, which moves directly on the water's surface, is especially suitable for waves and thrilling experiences. If you want to ride longer distances on calm areas it is worth taking a look at the e-foil Awake VINGA.
In addition to the two board variants, there are two versions each, which refer to different experience levels and the associated driving style. Beginners and learners should go for the larger version, the RÄVIK 3, while advanced and professional surfers looking for a challenge will be happy with the RÄVIK S.
---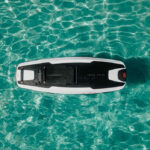 This larger board was created to allow a controlled ride with sufficient balance. The Awake RÄVIK 3 is a versatile and beginner-friendly electric surfboard that will accompany you on your way to becoming a pro.
The stable design helps the rider experience less unplanned situations because the board is designed to be as forgiving as possible. Nevertheless, it is agile enough for beginners to experienced surfers to have a lot of fun and also achieve quick learning success. Even if acquaintances want to test the device, it is ideally suited to trigger the first feelings of happiness.
The RÄVIK 3 offers the perfect balance between easy and at the same time exciting riding experience. This is also supported by the linear propulsion system, which provides constant thrust and thus allows the surfer maximum comfort and confidence.
The extensive accessories with various customization options help to counteract even the last discomforts and allow the rider to evolve in their own way and find their personal style.
---
Awake RÄVIK 3 – DETAILS
Size: 177x62x26cm
Volume: 71l
Top speed: up to 55 km/h (acceleration in about 4 seconds)
Weight: 23kg
Propulsion: linear jet system
Awake RÄVIK 3 – HIGHLIGHTS
– smooth and forgiving entry
– optimized operability with maximum control
– advanced and safety-guaranteed design
– efficient drive and powerful battery for a minimum operating time of 40min
– fast charging times
– high-quality equipment with many individualization options