SCUBAJET PRO Kayak Kit – INFORMATION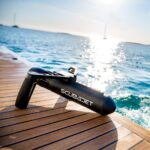 With the flexible SCUBAJET PRO Kayak Kit you can convert your rowboat or similar into an electrically powered watercraft in just a few steps. All you need is a rudder mount with 7mm or 10mm dimension. In addition, the kit can be adapted to your own needs at any time. If you later decide to use the device for diving, no problem. Just order the Dual Hand Controller and decide spontaneously what's next. The modular kit keeps you going!
With excellent performance of the 1000W motor and the powerful expandable batteries, you can reach speeds of up to 11 km/h. The runtime of up to 2h in the standard version allows extensive trips and lots of fun. Or opt for the PRO XR kit and double the battery capacity for an incredible 4 hours of uninterrupted fun.
Kajak Adapter
The portable kayak drive from SCUBAJET for enduring experiences. The adapter is very easy to mount and can be interchanged with the existing rudder. This allows it to be used with most boats and not only extends the drive. The remote control allows you to fully concentrate on fishing and immerse themselves in the environment from now on.
Fin Box Adapter
This handy adapter lets you mount the engine to any surfboard or stand-up paddle. Only weighing 500g there is no way you're getting tired of taking it with you. The design is made to fit any US or slide-in finbox but can also be mounted elsewhere.
Remote Controller
For wireless operation the kit includes a bluetooth controller that can be connected to the wearable display. This not only allows you to perform driving remote but also shows all relevant data related to your device. Whether it's speed, battery charge or runtime the controller will help you out.
LED Light
The powerful BEAM™ LED nose protects against bumping into rocks and provides a clear view of your surroundings. With 1500 lumens and a 120-degree angle, even night riding is moving into the realm of possibility.
SCUBAJET PRO Kayak Kit – HIGHLIGHTS
– 1000W motor unit with top speed of up to 11 km/h (7 m/h)
– very easy to mount and can be interchanged with the existing rudder
– 2x 100 Wh batteries with total runtime of up to 2 hours
– fin box adapter as perfect mounting solution for SUP & surfboard
– remote controller for wireless operation
– strong BEAM™ LED light (1500 lumens)
– loads of extra equipment (detailed information in pictures)