Fliteboard ULTRA L - INFORMATION
FLITE's E-Foils have been revolutionizing the watersports industry since 2016. With their innovative design and amazing quality, FLITE E-Foils offer a unique and exhilarating experience for surfers of all experience levels.
The proven model series number 3, sets new standards in performance, portability and customization. With the world's fastest e-foil, lightest battery, lightest weight and smallest dimensions, FLITE boards are among the most advanced e-foils on the market.
What makes FLITE E-Foils so special is their versatility. With countless customization options and multiple drive types to choose from, FLITE has the perfect E-Foil for every rider, from beginners to experienced surfers.
FLITE E-Foils are also incredibly durable and stable, thanks to their one-piece hull construction. This makes them ideal for riding in all types of water conditions, from calm lakes to choppy oceans.
Board Design & Material

The ULTRA L model comes in gold finish with 80cm mast length and is known for its outstanding low weight and the highest quality materials involved.
The Premium Carbon Construction was revised in all points to create an even higher quality product. To reduce the weight all components were improved and trimmed to the absulte minimum. The hull was crafted with signature Italian Carbon Innegra which offers superior strength and lightness for the ultimate experience. The gold color shines in every situation and enhances its overall luxury and elegant design even further.
Propulsion System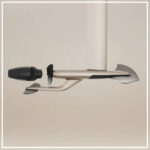 The Fliteboard ULTRA L offers two different propulsion systems to choose from, which gives you the best of both worlds.
True Glide: This patented propulsion system is ideal for experienced surfers and purists who want to catch the next wave without permanent electric support. With the True Glide propeller, you can also harness the power of nature and glide along in a relaxed manner.
Dual Drive: This option extends your possibilities by including another propulsion. The modular design makes it easy to replace the drive unit in just a few steps. This gives you the flexibility to choose the right propulsion system for your needs, depending on the environmental conditions and your riding style.
If you're planning varied adventures that include both shallow waters and wave areas, the Dual Drive System is the best option for you. This gives you the freedom to choose the right propulsion system for any situation.
Standard shipping includes the True Glide and the safety concious Jet system. If you're interested in the Propeller + Guard option as a Dual Drive configuration, please contact us upfront!
Battery

Flite's E-Foil batteries are the best on the market, thanks to their titanium coating, advanced technology, and IP67 waterproof rating. This makes them durable, lightweight, and safe, providing you with the best possible riding experience.
Flitecell Nano: The Flitecell Nano is the world's smallest and lightest battery for E-Foils. It provides up to 45 minutes of ride time and is easy to maneuver. Its tiny weight and perfect processing make it a great option for riders of all levels.
| | Weight | Ride Time | Recharge Time (Fast Charge) | Capacity |
| --- | --- | --- | --- | --- |
| Nano | 6.2 kg | up to 45min | under 1hr | 16 Ah, 0.85 KWh |
Wing Options
Model
Experience Level
Size
Characteristics
Flow 1300 S

Advanced
1283 cm²
Stability: 3/10
Glide: 5/10
Carve: 8/10
Surf: 8/10
Flow 1100 S

Intermediate / Advanced
1059 cm²
Stability: 2/10
Glide: 2/10
Carve: 9/10
Surf: 6/10
Flow 1300

Beginner / Intermediate
1332 cm²
Stability: 5/10
Glide: 8/10
Carve: 6/10
Surf: 10/10
Flow 1100

Intermediate / Advanced
1099 cm²
Stability: 3/10
Glide: 4/10
Carve: 8/10
Surf: 9/10
Fliteboard ULTRA L - DETAILS
Size: 128 x 58cm
Volume: 57L
Mast height: 80cm
Rated load capacity: 100kg
Weight (without battery & wings): 15.5kg
Fliteboard ULTRA L - HIGHLIGHTS
The Flite ULTRA L is a lightweight, high-performance eFoil for experienced riders who want the best of the best. It features a carbon battery box, high-end construction and a pre-configured setup for the highest lightweight performance. This includes the Flitecell Nano, which is the lightest lithium-ion eFoil battery in the world, the 80cm mast for wave riding and performance riding, and the True Glide propeller. The latter is a patented drive system that spins freely when not powered, providing less drag and more glide.
The ULTRA L is handcrafted and stripped down to the essentials for optimal weight and performance. The Flitecell Nano battery is the lightest on the market and is located closer to the mast for more agile and responsive flight. Thanks to the minimal swing weight, you can push your eFoiling limits. In short, the Flite ULTRA L is the perfect eFoil for experienced riders looking for the lightest, fastest and most maneuverable eFoil on the market.