Fliteboard (Standard) – INFORMATION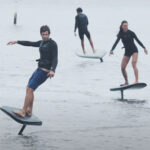 Flite's E-Foils find their origin in 2016 and have been constantly optimized since then. Thus, the manufacturer managed to break several records with the new model series 3. Among them, for example, the world's fastest E-foil, the lightest battery and both the lowest weight and the smallest dimensions.
Probably the most decisive characteristics of the manufacturer are the countless customization options and the possibility of using different propulsion types. The plug & play system is not only convincing here, but also allows various upgrades at any time after the purchase. Thus, every surfer can decide which features suit him best and find the best option depending on his experience level.
Another unique selling point is found in the construction of the hull, which is made of one piece and therefore offers more stability and durability.
Board Design & Material
The standard model with 75cm mast length is available in 12 different versions and is considered the best all-rounder for all application types and riding styles. There are three different model classes to choose from: Fiberglass, Carbon Classic & Carbon.
Fiberglass is the most cost-effective alternative and is in no way inferior to the carbon variants in terms of stability and aerodynamics. Only the weight and thus also the maneuverability are influenced by the material.
The Carbon Classic model is lighter due to the material properties and is therefore suitable for a dynamic driving style. While the design corresponds to the fiberglass model, the carbon classic variant includes a transport bag for scratch protection.
The model Carbon was revised in all points to create an even higher quality product. The design has been fundamentally adapted to allow the user faster reaction times and an even more dynamic driving style.
Propulsion System
Fliteboard lets you choose between different drive options, the powerful and efficient propeller or the safety-conscious jet system. While the Flite Jet provides a comfortable and uncomplicated riding experience, the Propeller comes up with a removable guard and offers better performance and agility. If you're planning varied adventures that include both longer trips through shallow waters and exciting wavey areas, be sure to use the Dual Drive System, which gives you the freedom of choice at all times.
Battery Types
The market-leading batteries from Flite are covered in a titanium coating to make them durable and light. Advanced technology and the waterproof rating of IP67 ensure the maximum of safety and deliver you the best solution around.
The Flitecell Sport offers a fast and responsive ride for up to 90 min in total. It's the most popular choice and sits in the middle of the range in terms of weight and performance.
The Explorer Version is the biggest battery out of the batch and therefore delivers the longest runtime. Whenever you're planning to ride greater distances of want to share the fun with your friends, this battery is your way to go.
| | Weight | Ride Time | Recharge Time (Fast Charge) | Capacity |
| --- | --- | --- | --- | --- |
| Sport | 11 kg | up to 1.5hrs | under 1.5hrs | 29.4Ah, 1.5 KWh |
| Explorer | 14.5 kg | up to 2.5hrs | under 2hrs | 40 Ah, 2.1 KWh |
Choose your Wings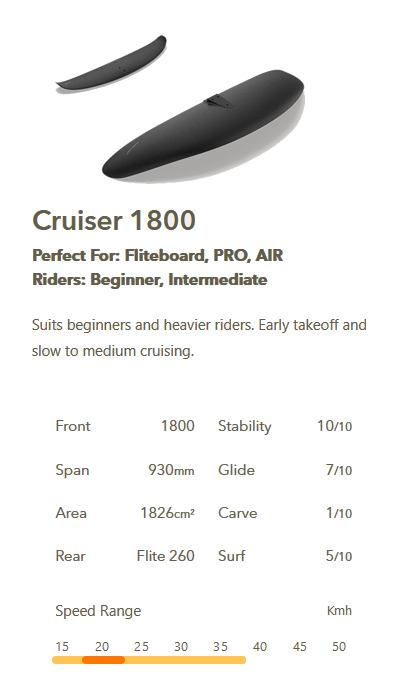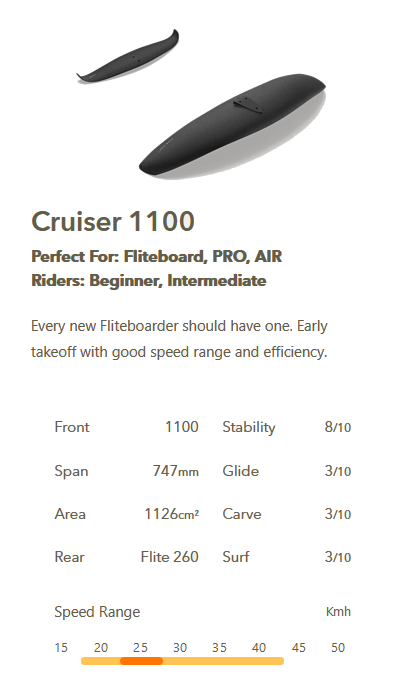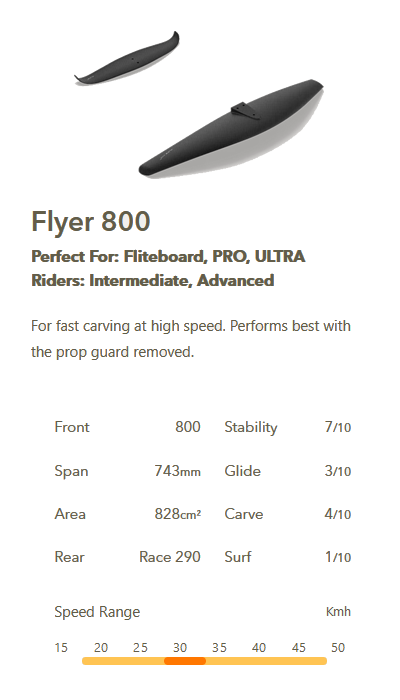 Fliteboard (Standard) – DETAILS
Size: 173x71cm
Mast height: 75cm
Rated load capacity: 120kg
Weight: 20.3kg (without battery)
Volume: 100L
Fliteboard (Standard) – HIGHLIGHTS
– smooth and forgiving entry
– optimized operability with maximum control
– advanced and safety-guaranteed design
– efficient drive and powerful battery for a minimum operating time of 120min
– fast charging times
– high-quality equipment with many individualization options