Flitescooter E-Foil - INFORMATION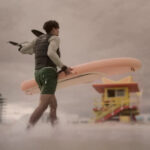 Flite's E-Foils have evolved continuously since their inception in 2016, culminating in the record-breaking model series 3. The world's fastest E-foil, lightest battery, and lowest weight and smallest dimensions are just a few of its accolades.
Flite's greatest strengths are its unparalleled customization options and its versatile propulsion system. The plug-and-play system makes it easy to upgrade your E-foil at any time, so you can always find the perfect setup for your skill level and needs.
The inflatable Flitescooter comes with a handle, which makes controlling your board even easier. That is why this model is especially suitable for leisure activities. Due to the larger volume, it offers particularly high stability and is also designed for higher loads. It behaves forgiving and is fun for anyone, beginners and experts.
---
Board Design & Controller
The Fliteboard's durable and lightweight dropstitch material will impress even the most discerning riders. Its stable carbon core and internal pressure of 15-16 psi ensure a smooth and balanced ride.
The Fliteboard's stunning design is available in two colors: Oyster & Silver. Both boards feature color-matched custom deck grips and the impressive handle that lets you integrate your controller for a more comfortable and stylish ride.
Propulsion System
Fliteboards can accomodate different drive options. The modular design makes it easy to replace the drive unit in just a few steps. This gives you the flexibility to choose the right propulsion system for your needs, depending on the environmental conditions and your riding style. The Flitescooter comes with the safety-conscious jet system. It provides a comfortable and uncomplicated riding experience, that feels very balanced and easily controllable. Perfect for any laidback surfer, who wants to try out the new era of watersports.
Battery Types
Flite's market-leading batteries are coated in titanium for durability and lightness. Advanced technology and an IP67 waterproof rating ensure maximum safety and performance.
The Flitecell Sport is the most popular choice, offering a fast and responsive ride for up to 90 minutes. It strikes the perfect balance between weight and performance.
The Explorer Version is the largest battery in the lineup, delivering the longest runtime. It's the perfect choice for long rides or sharing the fun with friends.
| | Weight | Ride Time | Recharge Time (Fast Charge) | Capacity |
| --- | --- | --- | --- | --- |
| Sport | 11 kg | up to 1.5hrs | under 1.5hrs | 29.4Ah, 1.5 KWh |
| Explorer | 14.5 kg | up to 2.5hrs | under 2hrs | 40 Ah, 2.1 KWh |
Wing Set
Model
Experience Level
Size
Characteristics
Cruiser 1800

Beginner / Intermediate
1826 cm²
Stability: 10/10
Glide: 7/10
Carve: 1/10
Surf: 5/10
Flitescooter E-Foil - DETAILS
Size: 213 x 88cm
Mast height: 60cm
Rated load capacity: 120kg
Weight: 28kg (without battery)
Volume: 237L
Flitescooter E-Foil - HIGHLIGHTS
- smooth and forgiving entry / safe to use
- inflatable exterior for lighter weight and easy transport
- strong enough to maintain constant enjoyment
- creates a stable platform for learning
- high-quality equipment with many individualization & upgrade options
- unique handlebar for easy control and better stability